Birthdays are one of the most important events for children and parents. For me, the third birthday is important, because a child is already actively participating in such an event and can appreciate things. My little Ola is at the stage of being a huge Peppa Pig fan right now, so I decided to decorate this cake with this cute piglet theme. The appearance of the cake is important, but the taste is more important, and a mixture of butterscotch, raspberries, strawberries and a slightly sweet cream with a fluffy sponge cake is a recipe for a wonderful birthday cake 🙂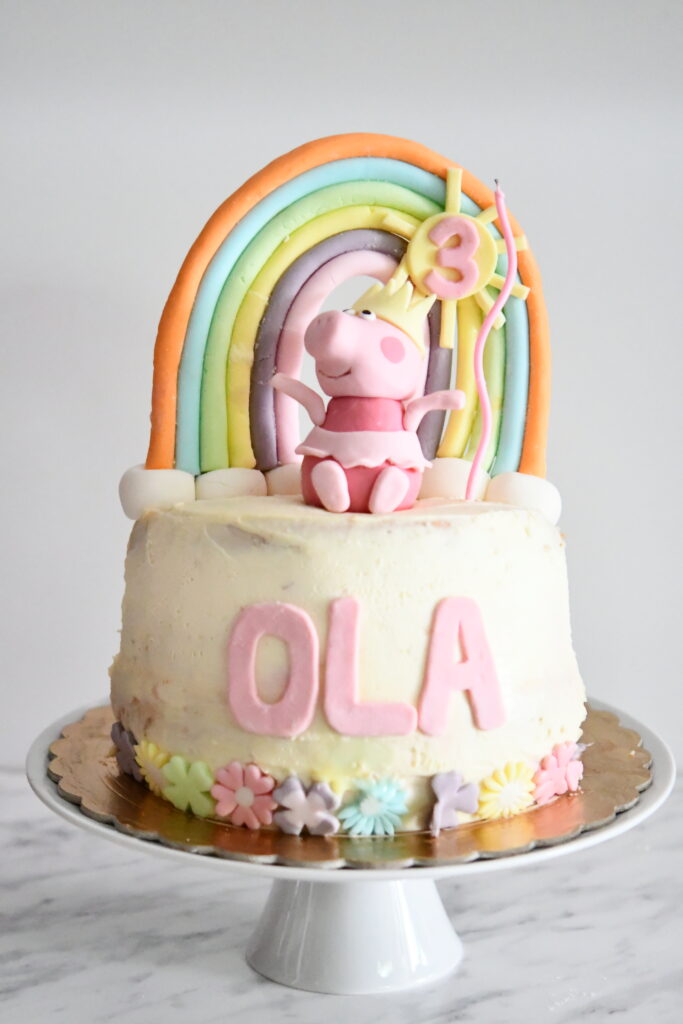 Ingredients:
Sponge cake (20-21cm springform cake tin):

7 large eggs
1 cup of plain wheat flour
1/3 cup of potato flour
1 cup of sugar
1 full tablespoon of vanilla sugar
1/2 teaspoon baking powder
2 tablespoons of cold water

Strawberry Filling:
400 g strawberries
1 tablespoon of sugar
1 teaspoon of potato flour
Butterscotch Cream:
250 g cream cheese
150 g peanut butterscotch mass
200 g heavy cream, chilled
Cream:
1 l heavy cream 36%
250 g cream cheese
2 fix cream
confectioners sugar, to taste
Additional:
250 g raspberries
peppa decoration, i used pastel sugar mass
Procedure:
Cake:
Separate the yolks from the egg whites. Place the egg whites in a bowl and mix until they form a light foam. While mixing at the highest speed of the mixer, start adding a spoonful of sugar (each next spoon should be added only when the previously added portion is completely dissolved). Add the yolks one by one into the beaten foam, and finally pour in the water. Sift in both flours and baking powder through a sieve and add a spoonful into the egg mass. It should also be done very gently or beat at a low speed so that the previously beaten egg does not lose its fluffiness. Line the bottom of a 2 springform pan with a diameter of 20-21 cm with baking paper and divide the dough into it. Place into the oven preheated to 170ºC and bake for about 30 minutes or until the toothpick inserted is dry. Allow to cool.
Strawberry Filling:
Wash the strawberries and drain. Cut off the stalks and cut into quartered. Place the strawberries and sugar in a pot. Cook for about 8 minutes on a slightly higher heat until the strawberries are tender, start to fall apart and form a thick juice. Add the potato flour (preferably through a sieve), mix and bring to a boil. Set aside and let it cool.
Peanut Butterscotch Cream:
In a metal bowl cream together the butterscotch mass and cream cheese. Pour in the heavy cream and beat for about 2-3 minutes or until fluffy and thick. Butterscotch mass is already sweet so no need to add sugar.
Cream:
Pour the heavy cream into a metal bowl, add the cream cheese and mix. Add sugar and fix creams while whipping. Whip until stiff whipped cream is obtained.
Assemble:
Cut both cakes into two parts. Place the first layer of cake into the cake board. Spread with strawberry filling and ¼ of the cream. Next, put the second layer of the cake. Spread with peanut butterscotch cream. Put the third layer of the cake. Spread another ¼ of the cream and dots with raspberries. Cover with the fourth layer cake. Spread the left cream on top and sides of the cake and decorate it. I used pastel fondant or sugar paste to make the peppa decoration.
Note:
I made the fondant or sugar paste decoration 2 days before the celebration. Cream you can divide how many you want, remember to cover the cake outside by cream.
Enjoy!