Quesadillas are tortillas with your favorite fillings. This time I present to you a recipe containing tortilla filled with common breakfast. Easy, quick and tasty dish will give you energy for the whole day.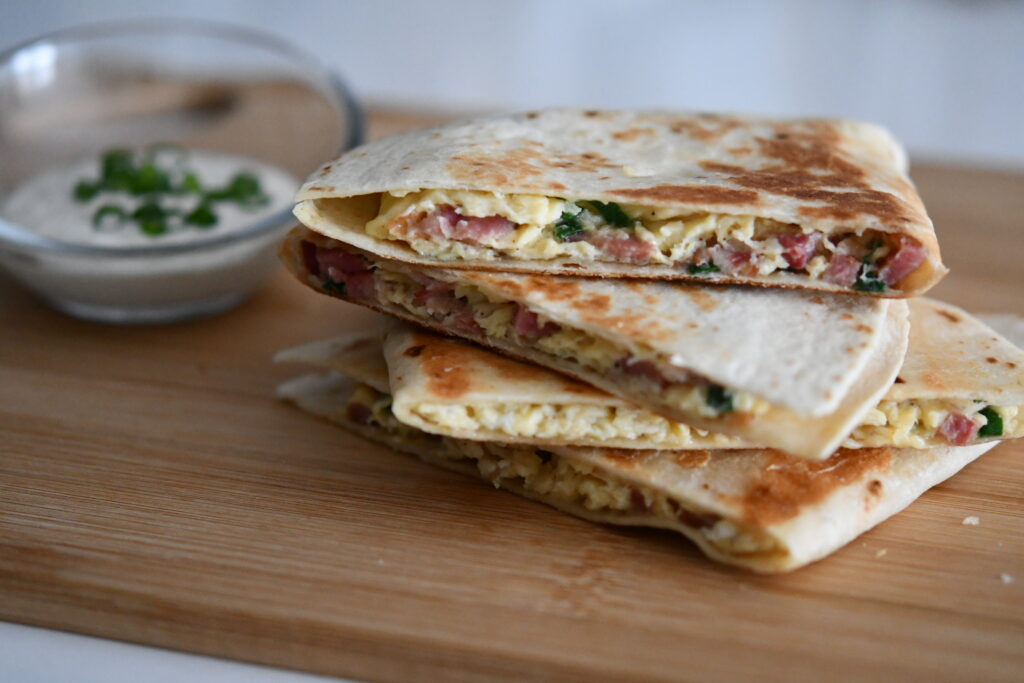 Ingredients:
2 pieces of tortilla
2 large beaten eggs
30 g żywiecka, cubed (sausage)
salt and pepper, to taste
½ cup of yellow cheese, shredded
1 tablespoon of chopped onion grass
oil for frying
2 tablespoon of sour cream
½ teaspoon of olive oil
Procedure:
Heat the oil in a pan over medium heat. Add the sausage and fry for 3-5 minutes. Add the eggs and onion grass. Season with salt and pepper to taste. Set aside. In the same pan place one tortilla, lower the heat. Add half of shredded cheese. Add half of the scrambled eggs with sausage on top. Cook for about 1-2 minutes or until the cheese starts melting and the tortilla turns into golden brown. Carefully fold the tortilla. Remove from the pan and cut into half. Cook the remaining ingredients in the same procedure. Simply combine sour cream with olive oil for the dipping sauce.
Enjoy!
cheese
,
cream
,
easy recipes
,
egg
,
fast recipies
,
oil
,
olive oil
,
onion grass
,
pepper
,
salt
,
sausage
,
tortilla